With offices in Toronto, Montreal and Calgary, Spot On Entertainment Inc. produces theatrical events, variety shows, comedy shows and a wide range of dog programming including the world famous SuperDogs.
Using the professional experience of its executive and management team, Spot On produces shows for fairs, exhibitions, arenas, theatres, special events, corporate programming, midway entertainment, and our expertise extends to title, associate and presenting sponsorship, as well as merchandising, licensing, media, TV and film.
More About Spot On Entertainment
Full turnkey productions – from conception to implementation.
Marketing support: Online, social media, television, radio and print, plus publicity generated from appearances outside the production itself.
Excellent sponsorship opportunities – help increase revenue and attendance.
Entertained over 30 million people.
Dedicated production team – our full time production staff is available year round.
Flexible productions to fit your budget, venue and audience.
As seen on their own ESPN special SuperDogs! SuperJocks, in their own feature film Daniel and the SuperDogs and live around the world, the SuperDogs are unlike any other dog show. A cross between a major sporting event and a broadway production, every SuperDogs show is different and can be tailored to almost any audience, venue and budget. From WaterBark to Science of the SuperDogs, Hollywoof to The Bow Wow Factor, these original productions are fast paced, interactive, heartwarming and hilarious.
Every SuperDog is first and foremost a family pet of the trainer/cast member.
Nearly half of the SuperDogs have been adopted from SPCA, Humane Society and local shelters.
The SuperDogs include frisbee-freestyle champions, flyball champions, agility champions, world-record holders, the highest-jumping dog in the world, and more!
After every show the audience gets to meet the dogs and their trainers at our Pat N' Chat™.
There are over 40 different breeds in our various SuperDogs shows, from Bernese Mountain Dogs to Jack Russell Terriers, Hungarian Vizslas to Australian Shepherds, Dachsunds to Dalmatians, Greyhounds to Chihuahuas, and the list goes on!
A Visually Stunning Variety Show
Ohh Canada is a unique, one-of-a-kind production featuring live performances, multi-media visuals and real-time interactive social media (at select venues).
With the help of video screens and clever set design, our host, a well-known Canadian personality, pulls up on a train and invites the audience on board for a trip across the country. At each stop they will enjoy a world-class performance that's strongly associated with that part of the country. From the foot-stomping Celtic music of Cape Breton, to the legendary circus acts of Quebec, to a pulse-pounding exhibition of First Nations dance, to the groundbreaking magic in Manitoba, to the extreme sport daredevils of B.C. and more!
Ohh Canada's conceptual design and production team includes Quebec-based designers who works regularly with Cirque Du Soleil and Cavalia.
Hosted by a nationally renowned, family-friendly Canadian entertainer with a regular presence on television.
There are 4 main categories of live acts to choose from. All of these, or a strategic combination of some, will be choreographed into a seamless production.
Real-time interactive social media (at select venues).
Pre-show, in-show and post-show activations will include audience participation.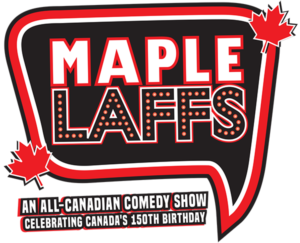 An unprecedented stand-up comedy show that brings together a mix of hilarious Canucks from different cultures, backgrounds and provinces to wish their native land a happy birthday as only comedians can!
Formatted to showcase Canada's diversity through the lens of comedy, with original material written specifically for the sesquicentennial, this show celebrates not just Canada's birthday, but what it means to be Canadian.
Hosted by a Canadian comedy star with significant television presence.
Perfect for theatre and showbar settings.
Can be scaled to venue size, small or large.
Show lengths from 45 to 90 minutes.
Adult content but not dirty/nasty/offensive.
In association with The Comedy Nest in Montreal (voted #3 comedy club in the world by www.traveller.com.au).